Edradour 2003 / 2013 Chardonnay Cask Matured (Batch 2)
Tasty Tastings Episode 41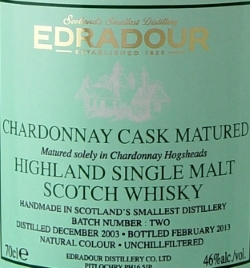 For such a small distillery, Edradour has a remarkably wide range of different expressions. So what I want to do in the future is some sort miniseries where I compare an expression form their 'Cask Matured' Series (full matured in different wine casks, bottled at 46%) with its respective counterpart from their 'Straight From The Cask' Series (finished in different wine casks, bottled at cask strength). I am honestly excited to find out how the different maturation process and the different bottling strength fare against each other.
For the start I picked the Edradour 2003 Chardonnay Cask Matured (Batch 2) which will compete against the Edradour 2000 'Straight From The Cask' Chardonnay Finish.
Normally, I do not put an emphasis on the color of whisky but here I am really impressed by it. Keep in mind, this single malt was matured for only nine short years and Edradour never colors. So they must have been used some exceptional casks I guess.
Facts
| | |
| --- | --- |
| Name: | Edradour 2003 Chardonnay Cask Matured (Batch 2) |
| Distilled: | December 2003 |
| Bottled: | February 2013 |
| Age: | 9 Years Old |
| Category: | Single Malt Scotch Whisky |
| Distillery: | Edradour |
| Cask Type: | Chardonnay Casks |
| Number of Bottles: | 2,150 |
| Strength: | 46.0% vol. |
| Colored: | No |
| Chill Filtered: | No |
Nose
Earth, hints of oak and something that reminds me of noble rot from Sauternes wines. Grapes, figs, dates and raisins. Followed by a lot of honey and sweet toffee.
Taste
Sweet with a lot of lavender honey. A short intermezzo of white pepper followed by sour citrus fruits.
Finish
Long and sweet with a bit of dry oak and spices.
Overall
Not what I would have necessarily expected from a full maturation in Chardonnay casks but I really enjoyed the uniqueness of it.
Score: 86 / 100