KAVALAN Sherry Oak
Worldwide Wednesday Episode 13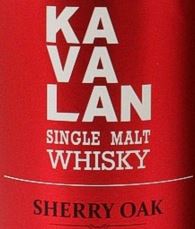 Kavalan released more recently two brand new expressions in order to bridge the gap between their core range – KAVALAN Single Malt, KAVALAN Concertmaster, KAVLAN Podiumand King Car Conductor – and their single cask range called "Solist". Both new expressions, which go by the name of KAVALAN Ex-Bourbon Cask respectively KAVALAN Sherry Oak, are produced in bigger batches and between four and six years old when bottled.
Earlier today I already reviewed the KAVALAN Ex-Bourbon Cask and I really really liked the gorgeous combination between first-fill bourbon casks and Kavalan's signature exotic fruitiness. So let's see of the KAVALAN Ex-Sherry Oak can keep up with the ex-bourbon version.
Facts
Nose
Full and voluminous. A creamy sweetness with a spicy touch. Huge Walnuts. Rum soaked raisins. Hints of vanilla sticks, marzipan and dried fruits. A whiff of firecracker smoke in the background.
Taste
Full-bodied and creamy. Dried fruits followed by nutmeg and cloves. Vanilla latte and milk chocolate.
Finish
Long. Very warming and drying. Hints of oak, without any bitterness, and sherry.
Overall
The sherry might be a bit loud as I am missing Kavalan's signature exotic fruitiness. But besides that, a very fine and engaging sherried whisky.
Score: 88 / 100
Sample provided by King Car Germany GmbH