Glenfarclas 1981 Port Pipe Edition
Tasty Tastings Episode 45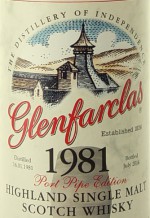 Glenfarclas is especially well-known for their heavily sherry influenced single malts. All the more I am excited to review two very special expressions from them today. Not only are they full matured in port pipes (which is a rarity in itself) but they are both also over 30 years old!
Facts
| | |
| --- | --- |
| Name: | Glenfarclas 1981 Port Pipe Edition |
| Distilled: | 16.01.1981 |
| Bottled: | July 2014 |
| Bottled for: | Germany |
| Age: | 33 Years Old |
| Category: | Single Malt Scotch Whisky |
| Distillery: | Glenfarclas |
| Cask Type: | Port Pipes |
| Cask No.: | 134 & 135 |
| No. of bottles: | 620 |
| Strength: | 46.0% vol. |
| Colored: | No |
| Chill Filtered: | No |
Nose
At first it is really hard to differentiate the aromas because they are so interwoven. This single malt needs its time in the glass. But the waiting is indeed rewarded with a stunning variety of multi-layered aromas. Herb and eucalyptus candies. Followed by dried fruits and raisin liqueur. Some subtle honey sweetness a little more in the back. Furthermore a bit of oak and finely chopped hazelnuts. The port wine is present but not overpowering.
Taste
Ripe red fruits. Hints of spicy oak, without any bitterness. Gets a bit sourish. Lemons and limes. A slight tingling on the tongue. Then more sweeter again with Limonchello.
Finish
Medium and very balanced. Traces of oak followed by a touch of menthol.
Overall
It doesn't have always to be sherry! No doubt, Glenfarclas also knows how to make port matured whisky. A highly pleasant and harmonic single malt with the right amount of complexity. Extraordinarily good!
Score: 93 / 100