KAVALAN Solist Vinho Barrique (W080225012)
Worldwide Wednesday Episode 15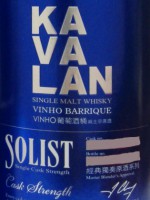 After reviewing all Kavalan expressions bottled at drinking strength, it is now time to review their single cask series called 'Solist'. I know that Kavalan really likes music basic names, but I do not have the slightest clue why they picked the German word for 'Soloist' here. Anyways, today I will review the Solist Ex-Bourbon and the Solist Vinho Barrique, followed by reviews of the Solist Sherry and the Solist Fino next Wednesday.
According to Kavalan's website, the Kavalan Solist Vinho Barrique is
fully matured in used American oak wine barrels that have been toasted and recharred (…) The casks have (deliberately) been used to mature both red and white wines
While the name suggests that those casks are from Portugal ('vinho' is Portuguese for 'wine'), I have no idea if this is indeed the case. Maybe they have chosen the Portuguese form just as a matter of style? Pretty much the same is the case with "barrique". Originally, 'barrique' refers to a (wine) cask used in Bordeaux with a holding capacity of 225 liters, but nowadays the term is also used outside of France for oak barrels in general.
One more thing. As already explained here, every Kavalan Solist is a single cask bottling. Now, it is in the nature of single casks that they do differ from each other. And I would like to assume that this is especially the case in Taiwan given the very special climatic conditions there. So I was more than a little irritated when the Solist Vinho Barrique was recently awarded as the "World's Best Single Malt Whisky" at the World Whiskies Awards, but there was no mentioning of the cask number. In my opinion, this is just… non-transparent? If you award a single cask, then give us also the cask number!  You cannot simple award a single cask and then suggest that all expressions from this bottling series are equally award-worthy. This is just plain wrong in my books. Say what you want about Mr Murray, his books and awards, but at least we always know exactly about which whisky he is talking.
The only real hint we have is that the bottling in question had a strength of 58.6%. I found two different Vinho Barrique expression with that particular strength in the whiskybase. The cask number is W090327023A respectively W090327045A. So maybe one of these two is the "World's Best Single Malt Whisky" ?
Facts
| | |
| --- | --- |
| Name:  | KAVALAN Solist Vinho Barrique |
| Category:  | Single Malt |
| Distillery: | Kavalan |
| Cask Type: | ex red and white wine barrels |
| Cask No.: | W080225012 |
| Number of bottles: | 184 |
| Strength: |  59.2% vol. |
| Colored: |  No |
| Chill Filtered: |  No |
Nose
Sweet and welcoming but not that winery (which is not a bad thing in my books). Cherries, plums and wild strawberries. Vanilla sugar. Hints of chocolate caramel in the back.
Taste
Syrupy. The alcohol is pretty harsh. Very very peppery. Strawberries, a lot of cherries but the pepper remains dominant all the time.
Finish
Medium with a dry sweetness. Chili chocolate in the aftertaste.
Overall
The aroma is stunning, but I am not the biggest fan of this peppery massacre on the palate. Also I think the alcohol is not all that well integrated.
Score: 84 / 100