KAVALAN Peaty Cask (for Whisky Herbst)
Worldwide Wednesday Episode 19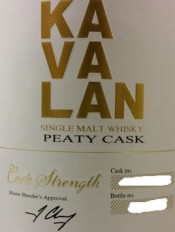 Everything has to come to an end eventually, and this is why I want to wrap up my Kavalan tasting series today with two special bottlings.
The second one on my list for today is the KAVALAN Peaty Cask. This cask was originally intended to stay in the distillery for Kavalan's 'Distillery Reserve', a 300ml bottling only available at the distillery and in Kavalan showrooms. But somehow the organizers of the Berlin Whisky Herbst (my home turf whisky festival) got hold of this cask and bottled it for last year's event. As the name already suggests, this whisky itself is not peated but was matured (or finished ?) in a cask that previously hold peated whisky.
Facts
| | |
| --- | --- |
| Name:  | KAVALAN Peaty Cask |
| Distilled: | 13.11.2006 |
| Bottled: | 05.06.2014 |
| Age: | 7 Years Old |
| Category:  | Single Malt |
| Distillery: | Kavalan |
| Bottled For: | Whisky Herbst |
| Cask Type: | Peaty Cask |
| Cask No.: | R061113007 |
| Number of bottles: | 139 |
| Strength: |  56.3% vol. |
| Colored: |  No |
| Chill Filtered: |  No |
Nose
Very light wood smoke. Lots of plum jam with cinnamon. Overripe cherries. Wild berries. Distinctive notes of vanilla. The alcohol is not noticeable at all.
Taste
Pretty smooth given the high strength. A lot of sweet vanilla and toffee. Limes and red fruits. Again very gentle wood smoke. Followed by a good portion of colored pepper. Hints of dusty oak and sea salt in the back.
Finish
Long. Dry but mild. Sweet smoke.
Overall
A very satisfying combination between light peat and rich sweetness. On top of that, the high strength is more of an asset than a handicap, unlike the other single casks from Kavalan I had so far. I would really like to see a peated Kavalan as part of the core range in the future.
Score: 90 / 100