Linkwood 1996 'Honeysuckle Bower' (Wemyss Malts)
Tasty Tastings Episode 54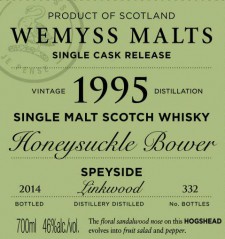 Although Linkwood is one of the bigger Scottish distilleries out there (5.6 million liters per year), it's maybe not that big of a household name among 'the average' single malt aficionado. Which has probably something to do with the fact that most of the production is used for a variety of Diageo's blends, especially for Johnnie Walker and White Horse. And sure enough, the only official bottling was a 12 years old as part of the now discontinued Flora & Fauna series.
Fortunately, there are quiet some independent bottlings available like the one I am going to review today: 'Honeysuckle Bower', bottled by Wemyss Malts.
Facts
| | |
| --- | --- |
| Name: | Linkwood 1996 'Honeysuckle Bower' |
| Bottler: | Wemyss Malts |
| Vintage: | 1995 |
| Bottled: | 2014 |
| Age: | 19 Years Old |
| Category: | Single Malt Scotch Whisky |
| Distillery: | Linkwood |
| Cask Type: | Hogshead |
| Number of bottles: | 332 |
| Strength: | 46.0% Vol. |
| Colored: | No |
| Chill Filtered: | No |
Nose
Light, sweetish and indeed there are some flower petals to be found, but I would not go so far to say that I am able to detect the smell of roses here. Also a very distinctive fizziness of orange effervescent powder. Honeydew melon and hints brown sugared mint leaves.
Taste
A lot more fruity with thick apple juice and bitter oranges. Followed by vanilla and hints of pepper and licorice.
Finish
Long and sweet. Sandalwood mixed with some flowers and pepper.
Overall
Accessible and mostly likable, especially when you are more into floral single malts.
Score: 82 / 100