Blanton's Gold Edition
American Monday Episode 18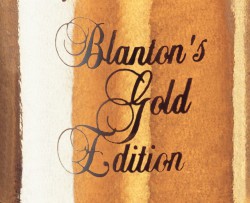 According to their official homepage, the Blanton's Gold Edition "was created for discerning connoisseurs who appreciate exceptional smoothness and clean finish in their bourbon whiskey."
In case you want to find out more about Colonel Albert Blanton,the namesake of this bourbon, and what the legendary Warehouse H is all about, then make sure to check out my the Blanton's Special Reserve.
Facts
Nose
Dry and vibrant, although the alcohol is hardly noticeable at all. A lot of dried fruits (especially red apples) along with nutmeg and cinnamon. Delicate hints of orange blossom and dry lemon cake. A wooden touch in the background.
Taste
Starts sweet and fruity with red fruits, apricots and honeyed raisins. But also a good portion of white pepper. Then very buttery. A chocolate cupcake with a fudge core. Again hints of oak in the back.
Finish
Long and a bit peppery. Leather, mint and macadamia nuts. Also some bitterness from the oak.
Overall
Indeed very smooth, but also pleasant complex and rich. The high strength blends in perfectly.
Score: 89 / 100