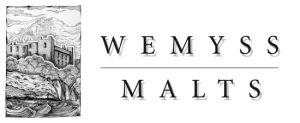 The Edinburgh-based company Wemyss Malt was founded in 2005 by the same-named family. Wemyss ("weems") comes from the Gaelic word for caves, a reference to the rocky shore of Fife where the family seat, Wemyss Castle, is located. The family owns three other companies in the field of gin and wine.
Wemyss Malt has two ranges. One range consists of single cask releases, bottled at 46% or at cask strength, non chill filtered and without coloring. The name of every release reflects its flavors and aromas. More recent releases are also labeled with the distillery of origin, which was not the case in the past. The other range is made up of blended malts.
In 2013 the family got involved in the Kingsbarn distillery project, a project initiated in 2009 by Doug Clement to build a new Lowland distillery in Fife. Wemyss Malt paid £3 million to become the new owner while Clement was appointed as the visitor center manager. Construction was completed in autumn 2014 and the production, with a capacity of 600,000 liters per year, started in November of the same year.
Tasting Notes
All other brand names and trademarks are the property of their respective owners and are used for descriptive purposes only.