Glen Scotia 12 Years Old
Tasty Tastings Episode 56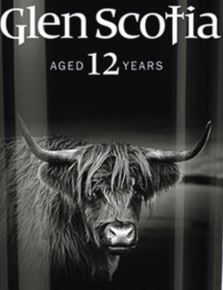 About three years ago, Glen Scotia launched a complete new range, which I liked to call the disco-cows-on-happy-pills. Of course the content is more important than the packaging, but seriously, how can you come with that particular packaging for a whisky? Anyways, a couple of months ago Glen Scotia did yet another complete overhaul of their range: no more 10, 12, 16, 18 and 21 Years old but instead a new 15 Years Old and two NAS bottlings ('Double Cask' and 'Vicotrina').
So, time to compare! I will review the old range today and on Thursday the new one.
Facts
Nose
Dry and slightly earthy. Also a bit peaty. Green apples, peaches and mandarins. Very fine hints of salt, but less than the 10 Years Old had.
Taste
Dry, creamy and oily. Also pretty waxy – a bit like licking a candle. A lot of peppery oak followed by floral honey. Then peaches, oranges and some nuts. A bit of peat in the back.
Finish
Medium and spicy. Oak, bitter chocolate and nuts.
Overall
Interesting to say the least! Just a bit too unbalanced overall.
Score: 78 / 100