Glen Scotia 18 Years Old
Tasty Tastings Episode 58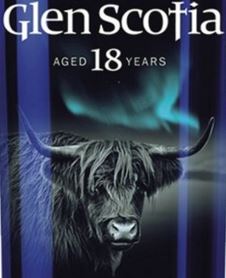 About three years ago, Glen Scotia launched a complete new range, which I liked to call the disco-cows-on-happy-pills. Of course the content is more important than the packaging, but seriously, how can you come with that particular packaging for a whisky? Anyways, a couple of months ago Glen Scotia did yet another complete overhaul of their range: no more 10, 12, 16, 18 and 21 Years old but instead a new 15 Years Old and two NAS bottlings ('Double Cask' and 'Vicotrina').
So, time to compare! I will review the old range today and on Thursday the new one.
Facts
Nose
Furnish polisher. Vanilla cookies, lemons and peaches. Followed by floral honey. A whiff of peaty ash in the back.
Taste
Thick and syrupy. Cinnamon, vanilla and chewy caramel. Followed by peach marmalade and nuts. A bit peppery and peaty around the edges.
Finish
Long. Spicy oak and apple pie with cinnamon.
Overall
While not groundbreaking by any stretch of imagination, its at least nicely balanced compared to the younger ones.
Score: 84 / 100