Glen Scotia 21 Years Old
Tasty Tastings Episode 59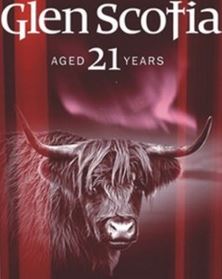 About three years ago, Glen Scotia launched a complete new range, which I liked to call the disco-cows-on-happy-pills. Of course the content is more important than the packaging, but seriously, how can you come with that particular packaging for a whisky? Anyways, a couple of months ago Glen Scotia did yet another complete overhaul of their range: no more 10, 12, 16, 18 and 21 Years old but instead a new 15 Years Old and two NAS bottlings ('Double Cask' and 'Vicotrina').
So, time to compare! I will review the old range today and on Thursday the new one.
Facts
Nose
Dust, yeast and grass. A lot of lemons. Some mandarins accompanied by floral honey and china spices. Peat and medicine. There is also a pretty strong touch of floral perfume.
Taste
Again lots of lemons. Oak and vanilla. Nuts. Gets spicier towards the end with pepper and ginger.
Finish
Long. Dry, bitter and slightly peppery. Milk chocolate.
Overall
Somewhat different than the 18 Years Old but not a real improvement.
Score: 84 / 100