The Quiet Man 8 Year Old
Tasty Tastings Episode 68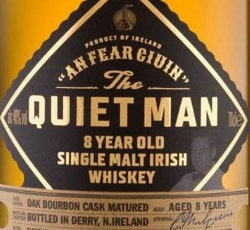 I just reviewed the The Quiet Man Traditional Irish Whiskey, and while we are at it, let's have also a look at The Quiet Man 8 Year Old.
Facts
| | |
| --- | --- |
| Name: | The Quiet Man 8 Year Old |
| Bottler: | Niche Drinks |
| Age: | 8 Years Old |
| Category: | Irish Single Malt Whiskey |
| Cask Type: | 1st Fill Bourbon Barrels |
| Strength: | 40.0% Vol |
| Colored: | Yes |
| Chill Filtered: | Yes |
Nose
Soft and a bit retrained in the nose. Apples and peaches, balanced by sweet malt and oak cookies. Marzipan and milk chocolate raisins, accompanied by soft touches of marshmallows and candy floss.
Taste
Light with a creamy mouthfeel. Lemons and grapefruits, sweetened with brown sugar. Peaches, bitter almonds and licorice emerge, along with some oak. Ends with dark malt.
Finish
Medium and slightly spicy. Menthol, vanilla beans and oat cookies with nuts.
Overall
A "quiet man" indeed, maybe a bit too quiet overall. I think a few more years of maturation wouldn't have hurt, as well as a higher ABV (let's say 43%). As it is, this is a by all means very enjoyable single malt. Light and approachable, perfect for summer!
Score: 84 / 100
Sample provided by Irish Whiskeys