Edradour 2000 Frühburgunder Barrique Finish
Tasty Tastings Episode 78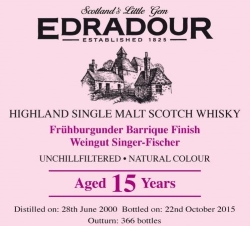 A few years ago, Andrew Symington, owner of Edradour, decided to do a collaboration with Klaus Singer-Fischer, owner of the winery Singer-Fischer. The result were three Edradour single malts finished in wine casks provided by Singer-Fischer. They were a complete success, so the two decided to join forces again. In autumn 2013, Singer-Fischer sent Symington another three barrique casks (225 liter each).
And here they are: three new single cask expressions, all finished in different kinds of wine casks.
The first one I want to review today is the Edradour 2000 Frühburgunder Barrique Finish. It was initially matured for 13 years in ex Bourbon Hogsheads and was then finished for 2 years in a rare Frühburgunder (Pinot Noir Précoce) barrique cask made of American Oak.
Facts
| | |
| --- | --- |
| Name: | Edradour 2000 Frühburgunder Barrique Finish |
| Distilled: | 28.06.2000 |
| Bottled: | 22.10.2015 |
| Age: | 15 Years Old |
| Category: | Single Malt Scotch Whisky |
| Distillery: | Edradour |
| Cask Type: | Frühburgunder Barrique Cask Finish |
| Number of Bottles: | 366 |
| Strength: | 46.0% vol. |
| Colored: | No |
| Chill Filtered: | No |
Nose
Not only does the color reminds me of a rose wine, but so does the aroma. A fresh and fruity rose wine to be exact. Strawberries, sour cherries and some other berries, accompanied by vanilla and hints of charred oak.
Taste
Dry and a bit sweet, but as not fruity as the nose promised. Red berries and vanilla, balanced by some spices. A tiny bit of glazed ginger and citrus fruits. Becomes more oaky towards the end. Very vinous overall.
Finish
Medium and drying with a good portion of oak. Bitter chocolate glazed ginger, hints of dry earth and… roquefort blue cheese?
Overall
Still identifiable as a single malt, but as one with a very dominant wine finish. Not something for everyone.
Score: 83 / 100