Basil Hayden's 8 Years Old
American Monday Episode 27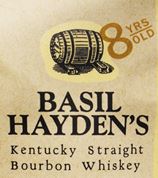 Jim Beam is all about quantity over quality?  Well, you've probably never had one of their small batch bourbons then!
Booker Noe, grandson of the legend himself, Jim Beam, created The Small Batch Collection, a "group of ultra-premium bourbon whiskies handcrafted in limited quantities from unique recipes, some dating back two centuries": Basil Hayden's, Knob Creek, Baker's and Booker's.
So, in the upcoming weeks I'm planning to review each single expression, starting with the Basil Hayden's 8 Years Old. This review is a bit outdated tough, as Jim Beam dropped the age statement some time ago and put "artfully aged" on the label instead. But from what I know, it's still 8 years old, so please bare with me.
The recipe for the Basil Hayden was created in 1796 by Master Distiller Basil Hayden Sr and utilizes twice as much rye as the other bourbons in the collection.
Facts
Nose
Pleasant, but a bit "thin". Gingerbread paired with soft touches of caramel sauce on vanilla ice cream. With some time, the rye comes through, but it stays gently in the background.
Taste
At first, a delicate caramel sweetness, followed by spicy rye and some pepper. Rather thin and watery.
Finish
Pretty short and dry. A slight rye spiciness and some soft oak.
Overall
This is certainly not your "typical" bourbon, but a solid choice for everyone who wants to try a slightly different and more "rye-like" bourbon.  Not bad, but also not on par with my expectations for an 8 year old bourbon with a higher than usual rye content.
Score: 80 / 100