Nikka Blended Whisky
Worldwide Wednesday Episode 20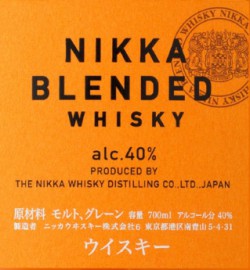 So to kick off my two month-long Nikka tasting series, I decided to review the Nikka Blended Whisky.
This blended whisky is available exclusively in Europe and is
A selection of slightly peated malts and Coffey still grain whiskies from Nikka's stocks; this well-balanced whisky has a smooth taste of the casual whisky enthusiast.
Truth be told, I am not sure if the Nikka Blended Whisky is also affected by the recent 'Nikka Shock'.
Facts
| | |
| --- | --- |
| Name: | Nikka Blended Whisky |
| Age: | NAS |
| Category: | Blended Whisky |
| Distillery: | Nikka |
| Strength: | 40.0% vol. |
| Colored: | Yes |
| Chill Filtered: | Yes |
Nose
Fruity. Lots of apples, pears, peaches and nectarines combined with hints of strawberries and blackberries. Underlying tones of vanilla, coconuts and heather honey. Malted barley. Also a floral touch of grass and roses. There is no sign of peat though.
Taste
Oily, creamy and reasonable strong given the low strength. Pear-almonds cake. Gets dryer and spicier towards the end. Again no signs of peat.
Finish
Medium with a dry sweetness. Hints of oak. Fruits and floral honey. Dark chocolate.
Overall
Soft and smooth, although I am a bit disappointed that I couldn't find any peat. But overall a well-made blend and not only for 'the casual whisky enthusiast' in my opinion.
Score: 83 / 100