Miyagikyo NAS
Worldwide Wednesday Episode 24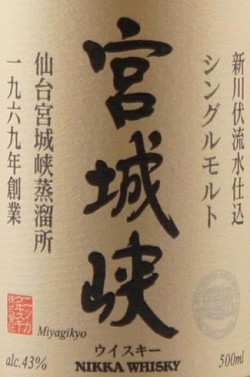 About two and a half months ago, Nikka announced that their single malt range will radically change (the so-called 'Nikka Shock') which means no more age statements and the introduction of two new NAS expressions with a slightly different profile compared to the old ones.
So today, I want to say goodbye to the old Nikka singe malt range by reviewing a total of six expression:
Miyagikyo NAS
Miyagikyo was founded in 1969 on the island of Honshu (the biggest of the four Japanese main islands), built in a valley landscape. The whole production process in the distillery (also called 'The Innovator') is managed by computers. The eight pot stills and two coffey stills (added in 1998) are heated by steam. The house style is subscribed as "round and generous, yet gentle and delicate".
The Miyagikyo NAS is characterized as "soft, fruity and spicy", making it "perfect as an apperitif".
Facts
Nose
Rich and deep. A bit floral at first. Then cooked citrus fruits on vanilla pudding with cinnamon. Blond tobacco and floral honey. Followed by anise and a whiff of cacao powder.
Taste
Vigorous and oily. Nuts strewn with cacao powder. Pepper. Followed by ripe plums, pears and apricots.
Finish
Long and slightly sour. Hey, grass and flowers. Hints of nuts.
Overall
Wow! This is probably one of the best NAS expressions I came across more recently. Really pleasant and varied.
Score: 86 / 100