Miyagikyo 10 Years Old
Worldwide Wednesday Episode 25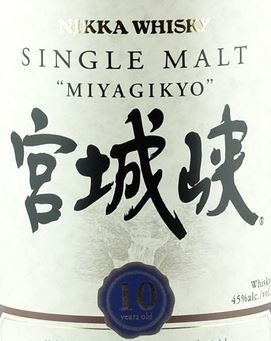 About two and a half months ago, Nikka announced that their single malt range will radically change (the so-called 'Nikka Shock') which means no more age statements and the introduction of two new NAS expressions with a slightly different profile compared to the old ones.
So today, I want to say goodbye to the old Nikka singe malt range by reviewing a total of six expression:
Miyagikyo 10 Years Old
Miyagikyo was founded in 1969 on the island of Honshu (the biggest of the four Japanese main islands), built in a valley landscape. The whole production process in the distillery (also called 'The Innovator') is managed by computers. The eight pot stills and two coffey stills (added in 1998) are heated by steam. The house style is subscribed as "round and generous, yet gentle and delicate".
The Miyagikyo 10 Years Old is characterized by "a lively, floral nose harmonizing the light scent of malt and a creamy, silky palate", thus making it "not unlike single malts of Speyside".
Facts
| | |
| --- | --- |
| Name: | Miyagikyo 10 Years Old |
| Age: | 10 Years Old |
| Category: | Single Malt |
| Distillery: | Miyagikyo (Nikka) |
| Strength: | 45.0% vol |
| Colored: | Yes |
| Chill Filtered: | Yes |
Nose
Ah yes, the influence of bourbon barrels isn't deniable. A lot of oranges, accompanied by lemons, vanilla and caramel. Malted barely. Hints of light smoke and soap in the back. Maybe also some sherry but I am not complete sure.
Taste
Smooth and soft with a light tingling on the tongue. Lots of vanilla. Milk chocolate, cinnamon and coconut. Cooked vegetables. Balanced by a light touch of peppery oak and peat.
Finish
Medium. Bitter and spicy. Nuts.
Overall
Yeah… not exactly a disappointment I would say, but I am also not "wowed" to be honest. Not bad, but doesn't really stand out either. Especially the finish is a bit weak in my opinion.
Score: 83 / 100