Yoichi 10 Years Old
Worldwide Wednesday Episode 22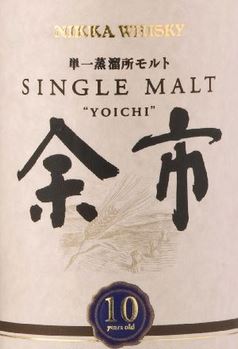 About two and a half months ago, Nikka announced that their single malt range will radically change (the so-called 'Nikka Shock') which means no more age statements and the introduction of two new NAS expressions with a slightly different profile compared to the old ones.
So today, I want to say goodbye to the old Nikka singe malt range by reviewing a total of six expression:
Yoichi 10 Years Old
Yoichi was founded in 1934 on the island of Hokkaido (the northernmost of the four Japanese main islands). The distillery (also called 'The Icon') is located less than a mile from sea and gets its water from an underground source that runs through peat. Thus it is not surprising that the house style is subscribed as "peaty and salty". Interestingly enough, Yoichi's small pot stills are still fired by coal, a traditional method that is no longer used by Scottish distilleries.
The Yoichi 10 Years Old was "made from a vatting of whisky aged in bourbon barrels, new oak barrels and sherry barrels, all reworked at the distillery". It is characterized "by a fruity, sweet nose and a smooth, velvety palate".
Facts
| | |
| --- | --- |
| Name: | Yoichi 10 Years Old |
| Age: | 10 Years Old |
| Category: | Single Malt |
| Distillery: | Yoichi (Nikka) |
| Cask Type: | Bourbon Barrels, New Oak Barrels and Sherry Barrels |
| Strength: | 45.0% vol |
| Colored: | Yes |
| Chill Filtered: | Yes |
Nose
Apples and stone fruits (peaches, apricots and plums) but overall not as fruity as expected. Fresh mint leaves, cinnamon and mixed nuts with a whiff of caramel. A good portion of peat and cold campfire smoke in the back, although without the coastal touch I found in the NAS version.
Taste
Rather strong and floral. Vanilla, cinnamon, sugared grapefruits and limes. Followed by more than a handful of black peppercorns. Also a slightly oaky. Again some peat and ash in the back.
Finish
Long. Warming, bitter and slightly dry. Dried flowers. A whiff of fruits and peat.
Overall
To be honest, I am not the biggest fan of floral single malts, but I kinda liked this expression. It has a pleasant fruitiness to it, although I am missing the coastal touch of the NAS version.
Score: 85 / 100