Mackmyra Svensk Ek
Worldwide Wednesday Episode 32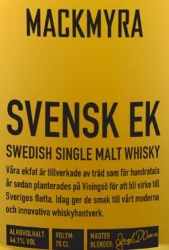 And on it goes. Next on the list is the Mackmyra Svensk Ek (Swedish Oak). This expression was matured in barrels made of Swedish Oak from the island of Visingsö. Interesting enough, those trees were intended to be used for building ships for the Swedish Royal Navy.
By the way, this is the successor of Mackmyra's first large-scale bottling, called "First Edition".
Facts
| | |
| --- | --- |
| Name: | Mackmyra Svensk Ek |
| Age: | NAS |
| Category: | Single Malt |
| Distillery: | Mackmyra |
| Cask Type: | Swedish Oak from Visingö |
| Strength: | 46.1% Vol. |
| Colored: | No |
| Chill Filtered: | No |
Nose
Very fruits with apples, pears and bananas. Lots of marzipan. Fresh rye bread with white honey. Hints of vanilla. Undertones of pepper and oak.
Taste
Mainly sour dough at first, followed by grapefruit, butterscotch and floral honey. Whiffs of black pepper and licorice. Ends on notes of herb liqueur and roasted oak.
Finish
Medium. Oak, menthol, herbs and bitter almonds with a bit of nougat.
Overall
Swedish oak doesn't seem to be my thing.
Score: 79 / 100