Mackmyra Svensk Rök
Worldwide Wednesday Episode 33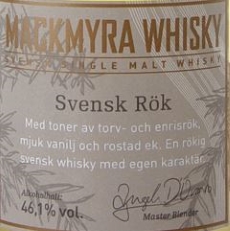 OK, the last Mackmyra for today! Svensk Rök means "Swedish Smoke" and is made from barley dried over juniper fire. The inspiration for this came from the Swedish tradition to season food with juniper.
Facts
| | |
| --- | --- |
| Name: | Mackmyra Svensk Rök |
| Age: | NAS |
| Category: | Single Malt |
| Distillery: | Mackmyra |
| Strength: | 46.1% Vol. |
| Colored: | No |
| Chill Filtered: | Yes |
Nose
Light peat smoke with a juniper touch. Citrus incense sticks  and rye bread. Hints of vanilla and caramel.
Taste
Medium smoke, but stronger than in the nose. The juniper is also more noticeable now. Dried vanilla sticks and tobacco leaves. A bit salty. Ends with sweet citrus fruits and rye bread.
Finish
Short. A lot of oak, a bit of smoke and a piece of milk chocolate.
Overall
Interestingly different from the usual peated single malts. Just don't expect some kind of Islay-like peat monster.
Score: 81 / 100