Mackmyra Midnattssol
Worldwide Wednesday Episode 35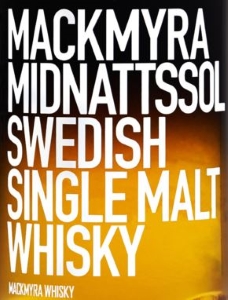 Seasons is Mackmyra's series of seasonal whiskys. Each bottling has an unusual finish with "a clear connection to the season's expression". So far, five editions have been released.
Mackmyra Midnattsol (Midnight Sun) was the second release in the series and was matured in American and Swedish oak casks (previously filled with sherry and bourbon) and then finished in casks that contained Swedish wine made from birch sap. I never had birch wine so I have no clue what to expect. I only know that I am usually not he biggest fan of the flavor profile that comes with Swedish Oak.
Facts
| | |
| --- | --- |
| Name: | Mackmyra Midnattssol |
| Bottling Series: | Säsongswhisky |
| Bottled: | 2014 |
| Age: | NAS |
| Category: | Single Malt |
| Distillery: | Mackmyra |
| Cask Type: | American & Swedish Oak, Birchwine Cask Finish |
| Strength: | 46.1 % Vol. |
| Colored: | No |
| Chill Filtered: | No |
Nose
Unexpected sharp, the alcohol isn't that well integrated. A flower field with lots of blooming purple lilacs. More than just a hint of hazelnuts. Whiffs of honey and caramel in the back.
Taste
Creamy and slightly bitter, but the alcohol isn't that well integrated again. Coffee liqueur with orange zest. Gets a bit floral. Cloudy pear juice. Hints of freshly pressed lemon juice.
Finish
Long. A bit sweet, some bitter orange and a little spicy oak. Good balance.
Overall
Rewarding and balanced. The different cask types work surprisingly good together.
Score: good but not exceptional ( 83 / 100)