Mackmyra Iskristall
Worldwide Wednesday Episode 36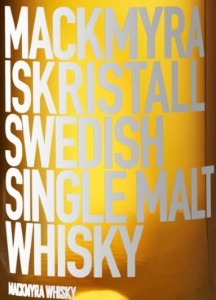 Seasons is Mackmyra's series of seasonal whiskys. Each bottling has an unusual finish with "a clear connection to the season's expression". So far, five editions have been released.
Mackmyra Iskristall (Ice Crystal) was the third release in the series and was finished in casks that previously held Pedro Ximinez sherry. Not that long ago, Mackmyra reissued this expression for the German market.
Facts
| | |
| --- | --- |
| Name: | Mackmyra Iskristall |
| Bottling Series: | Säsongswhisky |
| Bottled: | 2014 |
| Age: | NAS |
| Category: | Single Malt |
| Distillery: | Mackmyra |
| Cask Type: | American & Swedish Oak, PX Sherry Finish |
| Strength: | 46.1 % Vol. |
| Colored: | No |
| Chill Filtered: | No |
Nose
Fruity. Light fruits, most notably pears. White grapes and citrus fruits and fresh oak, underscored by a mint note. More herbs. Wild honey.
Taste
Dry with spicy oak, then more spicy with colored pepper. Eventually, the spiciness wears off and anise together with eucalyptus come to light. Ends with (slightly burned) caramelized popcorn.
Finish
Medium and a bit fruity. Dry cigar tobacco and raisins.
Overall
Very rewarding with a great good balance between warming sweetness and cooling eucalyptus. Not only for cold winter nights!
Score: good but not exceptional (85 / 100)