Mackmyra Rotspon Triple Wood 'Abraham'
Worldwide Wednesday Episode 39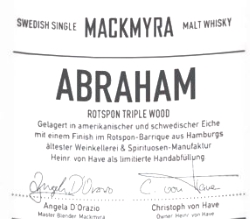 Mackmyra Rotspon Triple Wood is the result of a collaboration between Mackmyra, Sweden's biggest whisky distillery, and von Have, Hamburg's oldest family-owned winery and spirits manufacturer (founded 1868).
Made of Mackmyra's unpeated "elegant recipe", the Rotspon Triple Wood was first matured for 4 years in American Oak casks (200 liters), then further matured for 6 months in American and Swedish Oak "gravity casks" (30 liters), before receiving its finish in three Rotspon barrique casks from the winery von Have. All the three were bottled as single casks, nicknamed Abraham, Benjamin and Big Daddy.
By the way, Rotspon is an old German word for "red wine cask" and is usually used for French red wine barrels that are transported to a North German hansa town for final maturation.
Facts
| | |
| --- | --- |
| Name: | Mackmyra Abraham |
| Bottling Series: | Rotspon Triple Wood |
| Bottled: | 2015 |
| Age: | NAS |
| Category: | Single Malt |
| Distillery: | Mackmyra |
| Cask Type: | American & Swedish Oak, Rotspon Cask Finish |
| Number of bottles: | 423 |
| Strength: | 54.2 % Vol. |
| Colored: | No |
| Chill Filtered: | No |
Nose
Pretty fruity with cooked strawberries and cherries. Some kiwis, too. Vanilla oil and sandalwood. Hints of white pepper.
Taste
Vibrant and creamy. Fudge, strawberry-vanilla pudding and plum jam with cinnamon, balanced by some white pepper and oak. Dried cherries.
Finish
Medium and a bit peppery, with some light bitterness from the oak. More strawberry-vanilla pudding.
Overall
Maybe not overly complex but highly drinkable and satisfying. I was a little concerned that the red wine cask might be too overpowering, but this is definitely not the case.
Score: good but not exceptional ( 85 / 100)