Glenmorangie The Taghta
Tasty Tastings Episode 88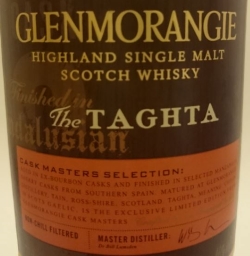 It's sometimes hard to keep up with all these new releases from Glenmorangie, because they are releasing a new expression every other month, or at least it feels so. So why not have some of their newer releases today?
Alright, the first one for today is The Taghta, which is Scots Gaelic for 'The Chosen'. A fitting name because Glenmorangie tried something new by letting fans in over 30 countries decide about things like the finishing cask, the name or the label design through online polls, making it the "world's first crowdsourced whisky".
Speaking of the finishing cask, Manzanilla is a dry, delicate and sometimes salty kind of fino sherry.  A unusual choice perhaps, but I'm all up for some variety.
Facts
| | |
| --- | --- |
| Name: | Glenmorange The Taghta |
| Bottling Series: | Cask Masters Selection |
| Bottled: | 2014 |
| Age: | NAS |
| Category: | Single Malt Scotch Whisky |
| Distillery: | Glenmorangie |
| Cask Type: | Ex-Manzanilla Sherry Casks Finish |
| Number of bottles: | 12,000 |
| Strength: | 46.0% Vol. |
| Colored: | No |
| Chill Filtered: | No |
Nose
At first maybe sweeter than expected, but the Manzanilla comes definitely through after a short while. Big sweet oranges, canned pears and dried lemons, followed by salted almonds and milk chocolate with caramel. Interesting notes of green olives. Hints of the typical Glenmorangie floweriness in the back. Altogether very elegant, but maybe a bit too light.
Taste
Quite acid, although there is a light sweetness, too. Frozen lemon custard, raisin liqueur and candied ginger. Whiffs of white pepper. Pickled olives.
Finish
Rather medium with a dry saltiness. Candied ginger, lemon bonbons, orange marmalade, walnuts. A bit of white pepper.
Overall
Interesting, but a bit all over the place. Maybe Ex-Manzanilla Casks weren't the best choice, because they don't match that well with the spirit.
Score: good but not exceptional (81 / 100)
Sample provided by spiritscorner.eu