W. L. Weller 12 Years Old
American Monday Episode 10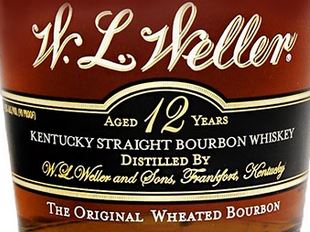 These days it is getting harder and harder to get hold of one of these alluring Pappy Van Winkle expressions. And even if you are lucky enough to find a bottle, you must willing to reach deep in your pockets making it a very costly affair. Meanwhile, the W. L. Weller 12 Years Old is giving you close to the same experience for a fraction of the price (about 50€ a bottle here in Germany). In fact, Weller 12 Years Old is made from the same wheated bourbon mash bill as nowadays produced Pappy's. The main differences are warehouse location and barrel management.
The name comes from William Larue Weller, who is thought to be the first distiller to use wheat in bourbon. His wholesaling company, W. L. Weller & Sons, was eventually taken over by Julian "Pappy" Van Winkle Sr., one of the company's salesman, and his friend Alex Farnsley. Afterwards they took also over the A. Ph. Stitzel Distillery, which made bourbon for Weller, and eventually formed the Stitzel-Weller Distillery. In 1972, the distillery along with its brands W. L. Weller, Old Fitzgerald, Rebel Yell and Cabin Still were sold to other companies but the Van Winkle family kept the rights to the Old Rip Van Winkle brand, which has been shortly introduced before Prohibition. The Stitzel-Weller distillery was eventually closed completely in 1991. Since 2002, the Van Winkle brands are distilled and bottled at the Buffalo Trace Distillery as a joint venture between the Old Rip Van Winkle Distillery company and the Sazerac Company, which purchased the W. L. Weller brand already in 1999.
There are also two other Weller expressions available, the younger W. L. Weller Special Reserve (also bottled at 45% ABV) and the Old Weller Antique (bottled at 53.5% ABV) as part of Buffalo Trace's annual Antique Collection.
Facts
Nose
Starts smooth and sweet with fresh vanilla, soft caramel and cherries. Fresh oak is there, but more in the background. A thimble of lime juice. Then more vanilla, caramel and cherries. Leaves you with the impression of sitting in a dusty leather chair with a bowl of sugared cereal and banana slices.
Taste
Soft and silky. Dark fruits, vanilla caramel and cherries. Gets stronger and dryer towards the end with spicy oak.
Finish
Long and sweet with more vanilla caramel followed by dry oak.
Overall
Easy-going and balanced with a nice amount of complexity. Well made from start to finish!
Score: 91 / 100