Fettercairn 1997 'Spirits of Humanity' Batch 1 (for Spiritscorner)
Tasty Tastings Episode 63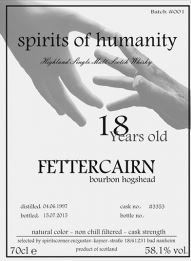 I'm a bit late reviewing the Fettercairn 1997 'Spirits of Humanity' Batch 1, but better late than never I guess. There are still some bottles left to buy in case you live in Germany and want one.
So what we have here is not only the very first own bottling for German online whisky retailer spiritscorner.eu but also the start of their bottling series 'Spirits of Humanity'. And as the name already suggests, it's for the good cause.
As for Batch 1, most of the earnings will be used to take refugee children to the Frankfurter Zoo. This will be directly organized by the owner of spiritscorner in order to make sure that the raised money is indeed spent for the intended purpose.
Before we start, keep in mind that this is solely a whisky blog so please restrain from starting any political debate.
Facts
| | |
| --- | --- |
| Name:  | Fettercairn 1997 / 2015 'Spirits of Humanity' Batch #001 (for Spiritscorner) |
| Bottling Series: | Spirits of Humanity |
|  Distilled: | 04.06.1997 |
| Bottled: | 15.07.2015 |
|  Age: | 18 Years Old |
| Category: | Single Malt Scotch Whisky |
|  Distillery: | Fettercairn |
|  Cask Type: | Bourbon Hogshead |
|  Cask Number: | 3353 |
| No. of bottles: | 261 |
| Strength: | 58.1% |
| Colored: | No |
| Chill Filtered: | No |
Nose
The light, gentle and smooth aroma reminds me of an early summer day. I'm sitting at a wooden table in the middle of a summer meadow, enjoying a big portion of Williams pears in vanilla pudding. The nose is so lovely, that I have to take a second look at the label to make sure that its indeed bottled at cask strength because there is no sign of the high alcohol strength whatsoever.
Taste
Sweet and punchy at the same time, but the high strength is very good integrated. The sweetness of white honey is well balanced by the spiciness of white pepper. A whiff of vanilla envelopes the palate. It then moves on with the slight citrus bitterness of lemons strewn with brown sugar. Gets dryer towards the end when a good portion of oak kicks in.
Finish
Long and drying with a slight bitterness coming from the oak. Sugar and cinnamon followed by something that reminds me of some herbal bitter liqueur.
Overall
A well-balanced yet complex Fettercairn with an absolute lovely sweetness. I still can't believe that it was bottled at cask strength so well is the alcohol integrated. Altogether, a very fine selected cask!
Score: 88 / 100
Sample provided by spirtiscorner.eu