Four Roses Yellow Label
American Monday Episode 4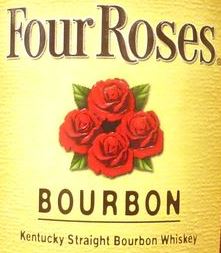 This very popular bourbon is Four Roses' entry level expression. Four Roses Yellow Label contains up to all ten different Kentucky straight bourbons of the distillery and is aged for a minimum of five years.
Facts
Nose
A beguiling scent of vanilla infused honey. Somewhere far away in the background hints of cereals, hardly noticeable but an interesting counterpoint nonetheless.
Taste
Rather Strong. Honey pushes its way into the foreground – a true honey bomb! Again cereals, now clearly identifiable as spicy rye. This spiciness forms a beautiful contrast to all the honey sweetness.
Finish
A touch of vanilla, almost too short.
Conclusion
A well-made bourbon with the right balance between honey and rye. Surprising complex for an entry level bourbon. If the finish could keep up with the rest…
Score: 87 / 100