Lagavulin 16 Years Old
Peaty Friday Episode 3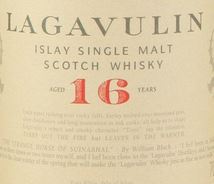 Lagavulin is best-known for their 16 Year Old, nowadays a true Islay classic. However that was not always the case. Before the 16 Year Old became one of the six 'Classic Malts of Scotland', the whisky has been of great importance for the White Horse blended Scotch.
Now it is very rare that the standard expression of a whisky distillery is 16 years old but the reason for this seems pretty simple: Despite the huge popularity of Lagavulin the core range is unusually narrow and only consists of three different bottlings. This combined with the fact that it is only rarely possible for independent bottlers to purchase casks from the distillery might explain why Lagavulin can still offer the 16 Year Old as their entry level expression at a time when more and more distilleries switch to non age statement expressions.
Facts
| | |
| --- | --- |
| Name: | Lagavulin 16 Years Old |
| Age: | 16 Years Old |
| Category: | Single Malt Scotch Whisky |
| Distillery: | Lagavulin |
| Cask Type: | Ex-American Oak |
| Strength: | 43.0% Vol. |
| Colored: | Yes |
| Chill Filtered: | Yes |
Nose
Dry, cold ash in a carmine. Intense, voluminous and incredible delicate. A soft sea breeze from the open window blows into the fireplace room – seaweed, salt. An aromatic candle "spicy vanilla" burns in the room next door. The scent of the candle is evident but remains discreetly in the background and gives the entire aroma a very deep sweetness. 
Taste
Ash. A very gentle, almost shy sweetness emerges for a short time but is quickly pushed into the background by another ash cloud. Hints of spicy oak and coffee unfold. Swept away by a sea wave, which leaves behind a certain saltiness on the tip of the tongue.
Finish
Very long, warming. A wonderful combination of smoke and salt.
Overall
The senior among the Islay Single Malts, not only because of the age. Vigorous, incredibly complex but completely harmonious from start to finish. This single malt is very close to perfection and definitely sets its own standards in every respect. An absolute must have in everyone's cabinet.
Score: 93 / 100