Balcones Brimstone (BRM 14.8)
American Monday Episode 3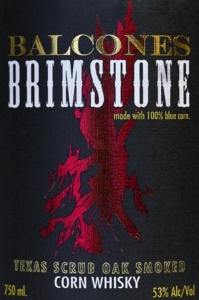 This is for the time being the last Balcones Whisky I will review here. I am sure more will come in the future but oh my! Bottlings from Balcones are really hard to get here in Good Ol' Europe. Anyways, so far I reviewed the Baby Blue (not my dram of whisky) and the '1' Texas Single Malt Whisky Special Release (great Single Malt does not have to be Irish or Scottish!). Both were rather unique and in a way even a bit "exotic". I mean Corn Whisky made from Blue Corn is a rarity in itself and most folks do not link up Texas, or the USA as whole for that matter, with Single Malt Whisky (yet). But if you were already wondering if it is even possible to increase the level of uniqueness provided by Balcones the answer is definitely yes! Balcones Brimstone is a whisky like no other one.
Brimstone is made from 100% Blue Corn like other whiskys from Balcones, too. In a distinctive process not the grain but the whisky itself is smoked using sun-baked Texas scrub oak. Innovative techniques such at this are a great example of how micro distilleries like Balcones redefine the art of whisk(e)y making.
Facts
| | |
| --- | --- |
| Name: | Balcones Brimstone |
| Distillery: | Balcones Distilling |
| Batch: | BRM 14.8 |
| Bottled: | 17.10.2014 |
| Category: | Corn Whisky |
| Strength: | 53.0% Vol |
| Colored: | No |
| Chill Filtered: | No |
Nose
A bit burned rubber to start with. Only short-lived this note adds an interesting touch to the aroma and is not unpleasant at all. But now its BBQ time! Very gentle hickory smoke, sweet and spicy BBQ sauce and roasted meat. More in the background a heavy sweetness of honey and sugar syrup.
Taste
Right off the bat a very big oak influx to the palate. A peppery spiciness balanced by some honey and brown sugar. Hickory smoked BBQ sauce
Finish
very, very, very long – no joke, the finish is literally endless. Hints of peppery oak. More smoke to finish things off
Conclusion 
No prisoners taken! This whisky rolls over you like an uncompromising bulldozer but in a extremely satisfying way.
Score: 95 / 100