Balcones '1' Texas Single Malt Special Release (SM 14.10)
American Monday Episode 2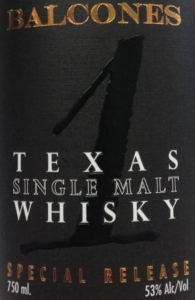 Most people think of Bourbon and Rye (and maybe Corn Whiskey) when it comes to US Whiskey. However a growing amount of US distilleries are also producing Single Malt Whisky nowadays. One of them is Balcones, probably one of the hottest US micro distilleries out there at the moment. Balcones is known for going the way less traveled with their Whiskys. The results are very unique releases with a special profile. Last week I already reviewed the Balcones Baby Blue.
Balcones '1' Texas Single Malt Special Release is made from 100% malted Golden Promise barley and is handcrafted in small batches. Each batch goes through several barrels of different sizes and woods before the final aging is done in big barrels. Every barrel is bottled by hand.
Facts
| | |
| --- | --- |
| Name: | Balcones '1' Single Malt Special Release |
| Distillery: | Balcones Distilling |
| Batch: | SM 14.10 |
| Bottled: | 02.10.2014 |
| Category: | Texas Single Malt Whisky |
| Strength: | 53.0% Vol |
| Colored: | No |
| Chillfiltered: | No |
Nose
A fresh and clean start, almost a bit minty. Developing notes of baked apples and pears and warm bread with honey. A vanilla undertone which gets stronger with time. Now also burnt sugar almonds. Suggestions of roasting flavors and oak.
Taste
Apples and other light fruits to start with. But this mild feeling does not last long and and a noticeable spiciness comes to light. Hazelnuts and pepper. Then the taste makes another turn. Milky coffee with brown sugar which moves into espresso and bitter chocolate.
Finish
Long. Warming in the finish and slightly dry. Latte with hazelnut syrup and cinnamon. A touch of mint bubblegum.
Conclusion
It is just mind blowing how perfect the high proof works here. A fun wild ride from start to finish with more twists and turn than a roller coaster. A very unique and exciting Single Malt. In some aspects even a bit challenging but very rewarding indeed.
Score: 89 / 100