Glenmorangie The Duthac
Tasty Tastings Episode 37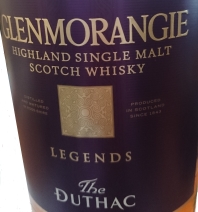 It has been a little while since the last time I reviewed an expression from Glenmorangie, so let's change that with a review of their latest release, the Duthac.
Nowadays it seems like every other new release from Glenmorangie is the start of a new series. And sure enough, the Duthac is no exception as it marks the start of a new series called "Legends" while continuing the trend of LVMH-owned distilleries to release non age statement expressions. What really sets it apart from other more recent releases from the LVMH group is the complete lack of media hype before the release. It just hit the travel retail shelves without anyone taking too much notice of it, myself included.
Nevertheless, it comes with all that marketing mumbo-jumbo new releases (or at least some of them) have nowadays but nobody really needs.
Starts with an explanation about why they chose the name Duthac:
This expression honours the annual pilgrimage made by King James IV to the shrine of St Duthac in Tain.
And moves on with what the Legends Collection is all about:
Glenmorangie Legends is a unique collection of single malt whiskies exclusive for Travel Retail. Each expression has been carefully crafted by Dr Bill Lumsden to capture the spirit of its own unique tale, inspired by the legendary lands that have been home to the Glenmorangie Distillery since 1843.
Followed by a lengthy explanation about how they "captured the spirits own unique tale":
To a selection of single malt aged in ex-bourbon casks, Dr Bill carefully married two parcels of spirit finished in casks representing the King's often contrasting nature. The first, appropriately finished in casks from 'the King of Sherries' – Pedro Ximénez, to add a layer of rich sweetness exemplifying the King's tempered, diplomatic side. The second, finished in charred virgin oak casks, providing an intense, spicy side embodying the King's fiery, impulsive nature.
And to be fair here, this combination is pretty unique for sure, especially the part with the charred virgin casks. Anyways, their conclusion reads:
A whisky fit for a king.
Um, sure, why not I guess? So time to see what this "worthy for a king" whisky has in store for us!
Facts
Nose
Sweet vanilla ice cream paired with apple cookies with raisins. Then rather nutty with almonds, peanuts and nutmeg. Hints of cinnamon toffee.
Taste
Oily and very sweet. Peaches, sweet plums and a small bar of milk chocolate. Followed by distinctive sherry notes. A little bit more spicy towards the end with a whiff of white pepper.
Finish
Long. A bit sweet, a bit spicy, but a lot of vanilla.
Overall
Well-made and very enjoyable? Yes. A lot of complexity and variety? No. A whisky fit for a king? Maybe if the king is a sweet tooth. Overall easy to drink and agreeable but does not bring much new to the table.
Score: 81 / 100
Sample provided by Thorsten Jung (Spiritscorner.eu)