Highland Park Odin
Peaty Friday Episode 1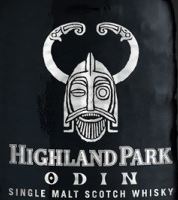 Odin is the last part of The Valhalla Collection from Highland Park. This collection is named after Nordic gods to celebrate Highland Park's "Norse heritage". It is true that the vikings ruled over the Orkney Islands from the 9th century until the 15th century however at least to my knowledge there is no (direct) lineage between Highland Park and this period. Seems to me more like a clever marketing trick considering the fact that the Warriors Series from Highland Park is also playing with this theme. Anyway, the three bottlings prior to Odin were Thor (16 Years, 52.1%, 23,000 bottles), Loki (15 Years, 48.7%, 21,000 bottles) and Freya (15 Years, 51.2%, 19,000 bottles).
Odin, also called The Furious One, is the king of Asgard, the world where the Gods live according to Nordic Mythology. He gave his right eye for wisdom and is accompanied by his wolves Geri and Freki and his raves Huginn and Muninn, who bring him information from all over Midgard (our world). Oh, and he rides the flying, eight-legged steed Sleipnir. Quite a badass if you ask me.
So now it is the time for the arrival of All-Father Odin, the most strictly limited bottling out of the Valhalla Collection and, in accord with his superior position in the Nordic pantheon, the bottling with the highest strength (55.8% Vol). To be fair a limitation of 17,000 bottles is not that little but the wholes series sells like crazy.
Facts
Nose
A very big Oloroso Sherry flavor upfront. The nose is full of dark fruits and orange peel paired with a cooling heather note. Above all this hovers very gentle smoke. Overall surprisingly light and very sweet but lacks a bit of complexity.
Taste
A strong entrance to the palate with lots of toasted oak. The developing spiciness of freshly ground black pepper catches me by surprise – I guess that is where Odin's furiousness comes into play. The spiciness wears off now and red berries covered in bittersweet chocolate come to light. A slightly smokey touch in the background.
Finish
Long, dry Sherry with soft fruits. A very smokey final to finish things off.
Overall
So let's see what you get when we put the clever marketing machine and the fancy black bottle with the stylish wooden longship aside. What you get is a nice but pretty raw and in some aspects even unbalanced 16 Years Old Highland Park. Is this what Odin was all about? My expectations were quite high for this one with all that fuss but the lack of complexity and balance is pretty sobering to me. Sorry, but at the end of the day that one just does not do it for me.
Score: 76 / 100