BenRiach 10th Anniversary Bottling
Tasty Tastings Episode 5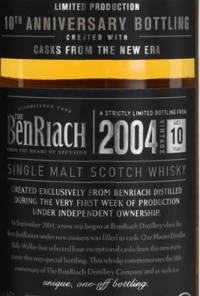 A consortium grouped around Billy Walker took over the then mothballed BenRiach distillery in 2004. The production resumed under the new owners on 20th September. Ten years later Billy Walker married together four bourbon barrels (7257, 7258, 7259 and 7260) filled on 21st September 2004. The result is a strictly limited bottling with only 1106 bottles to celebrate the 10th Birthday of BenRiach under independent ownership.
Facts
Nose
Vanilla mousse, next a layer of sugared Williams pears out of the can and then another layer of vanilla mousse. The whole thing is lightly stewed with coconut flakes. Over time the vanilla becomes more evident.
Taste
A light and soft entry to the palate as one could expected from the nose. But all of the sudden it gets really spicy. A wave of toasted oak and white pepper pushes into the foreground. Once this spicy wave is flatting off, a very pleasant sweetness develops – butterscotch, vanilla and the pear from the nose.
Finish
medium-length, slightly dry with some subtle spice
Overall
This has a lot of character for its young age – multifaceted and elegant but at the same time expressive, too. An absolute worthy anniversary bottling for this special occasion.
Score: 92 / 100