The Six Isles
Peaty Friday Episode 11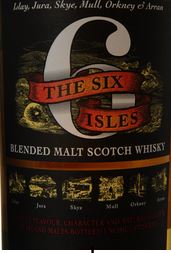 Independent bottler Ian MacLeod has a wide range of brands under its roof, including their The Six Isles brand. There are two different expressions available, a classic one and a finished one, which I will review both today.
As the name suggests, The Six Isles contains six different single malts, each one from one of the whisky producing Scottish islands, but no grain whisky, thus making it a Blended Malt (or a Vatted Malt in the good old days).
Facts
Nose
Lots of iodine, but well integrated. Accompanied by apples, pears and touches of heather and floral honey. Now some sea salt comes through. Altogether surprisingly varied and entertaining.
Taste
Creamy, soft and sweet. Cold ash settles down in the mouth. Hints of caramel and vanilla, followed by a slight pepperness and very little oak.
Finish
Medium with a bit of cold smoke.
Overall
While this Blended Malt might be neither a smoke bomb nor a taste grande, it is well balanced and clean without a lot of oak influence. A felicitous composition of the different single malts involved.
Score: 86/ 100