Ardbeg Perpetuum
Peaty Friday Episode 14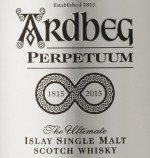 Alright, I have the feeling that today's episode might get a bit controversial. So let's get some things straight first and then go from there.
First off, I am by no means a so-called "Ardbeg hater". And while we are at it, let's talk really quick about what that term is really supposed to mean. To me, it seems like this term is all too lightly thrown around by self-declared "Ardbeg followers" in the direction of everyone who does not follow the hype of every new release from Ardbeg. So let me get this straight: No, I am not the biggest Ardbeg fan who ever walked on this planet. But, this has nothing to do with me denying their capability of producing good and sometimes really good whisky. If they have always shown this capability in the more recent past is open for another debate. However I am just not a fan of the way how they are doing business with all those limited releases which do not have an age statement but therefore fancy names, lavish bottles and all that marketing mumbo jumbo. Why not put some stock aside so we can have someday in the distant future something like a 15 Years Old as part of the core range instead of just having a 10 Year Old and two NAS expressions like it is the case right now.
So in order "to keep making incredible whisky forever and ever" Ardbeg created the Perpetuum, which is Latin for "forever". Which brings me directly to my next point. It is one thing, that their 200th Anniversary bottling is yet another NAS (how much would I have loved one with an age statement) but they didn't even give us a lot of background information about it. All we really know is that they used some young cask but also some old casks, some of them ex-bourbon, some of them ex-sherry in order to "bottle Ardbeg's past, present and future". Can it get any more cryptic than this? I mean, give us a little more something to work with. How old were the oldest casks? And exactly what type of sherry ?
One last thing. This is quite a special occasion which demands for a special expression. So of course everyone's expectations are really high, especially after all the build up. So don't simply put the blame on the people who say that there expectations were more or less not met.
Facts
Nose
Very gentle peat smoke combined with eucalyptus and smoked oysters. Hints of vanilla and citrus fruits in the back. Altogether rather light and simple and not all that fascinating.
Taste
Smooth as expected. Lots of sweet fruits with some lingering vanilla hints. It takes a moment until it gets a bit peaty and ashy. Now also some lightly sugared grapefruit and white pepper.
Finish
Rather long. Sweet and warming but finally a good portion of smoke as well. Again grapefruits. Traces of ash and pepper.
Overall
Where do I begin… OK firstly, the nose is just too simple and shallow. The taste is indeed better and more layered but not outstanding. The best part of this whisky is hands down the finish and I wish the rest would have been just as good. Moreover I am still not sure where the sherry has hidden itself. Altogether a pleasant and agreeable Ardbeg but honestly I am not really impressed. Seems to me more like an outlook on the future than a recollection of the past.
Score: 81 / 100
Sample provided by Moët Hennessy