Big Ass Bourbon
American Monday Episode 13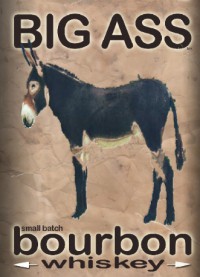 The Big Ass Bourbon is named in honor of the American Mammoth, the world's largest breed of donkey. And just to give you a quick idea about how big those donkeys can grow: While your standard donkey averages 111 cm of height at withers, the American Mammoth averages 152 cm of height at withers and some of them grow as big as 172 cm. Now, that's a huge donkey!
But what has all this to do with bourbon whiskey? Well, this is what the label says:
Every donkey has its own individual personality. But they do have two things in common which are their calm and gentle natures and their willingness to please.
It's this commitment to fine breeding that prompted the development of a refined, strong bourbon with a gentle flavor aimed at pleasing even the most discriminating bourbon enthusiast.
And, according to their official website, their 'Big Ass' is "small batched in 6-9 barrel batches".
So far so good, I would say. But now it gets a little bit more tricky. The label also says that this bourbon was "distilled in Indiana" and then "bottled and crafted by Strong Spirits in Bardstown, KY". Since there is no "Big Ass Distillery" in Indiana or elsewhere, I searched the web for a bit and found this super helpful blog post: The Complete List of American Whiskey Distilleries & Brands. According to this list, the Big Ass Bourbon is likely produced by MGP Ingredients, located near the Kentucky border. This large distillery does not market any of its own products, but makes bourbon, rye, corn, wheat and malt whiskey (among other spirits) for several other brands. Strong Spirit in turn is a contract bottling company which bottles spirits for its own labels and those of others. Big Ass Bourbon falls in the latter category, because the brand is actually owned by Diversa Brands (Louisville, KY). So three different companies are involved in the creation of this bourbon whiskey, a combination only found in the US whiskey industry I guess.
Anyways, I want to make one last point. Although aged for less than two years (as stated on the label), this is a true bourbon whiskey. I often hear (even from other bloggers) that bourbon has to be matured for at least two years but that is only the case for Straight Bourbon, not for Bourbon in general. So please do not confuse the two.
Facts
| | |
| --- | --- |
| Name: | Big Ass Bourbon |
| Age: | less than two years old |
| Category: | Bourbon |
| Cask Type: | American Oak |
| Strength: | 45.0% vol. |
Nose
Pretty much non existent. Only very light hints of fresh oak, caramel, vanilla and cacao powder.
Taste
Very smooth for the strength, almost thin. A lot of vanilla infused honey accompanied by traces of ginger and candied fruits. While this is everything but spectacular, it is at least a clear improvement compared with the nose.
Finish
Medium and dry. Spices, caramel and a fair amount of menthol.
Overall
Let's be honest: this is indeed a "gentle" bourbon but far away from being "refined and strong". I would rather argue that this bourbon is as generic as it gets. Although I know that "small batch" refers to quantity and not quality, I find this one pretty disappointing.
Score:  72 / 100