Laphroaig 1991 23 Years Old
Peaty Friday Episode 2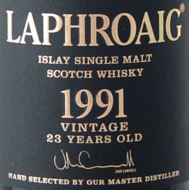 A 23 years old special release for Germany and the first in a row of limited bottlings in celebration of Laphroaig's 200th birthday. Limited to 5,000 bottles
Facts
Nose
Still recognizable as Laphroaig but lacks the usual phenolic and medial radicality. Instead very complex smoke which reminds of fireplace smoke at first glance. However this first impression does not last long and smoked ham comes to light. Smoked ham crusted in herbs (Provençal herbs) served with a sweetish balsamic sauce to be exact. A subtle aroma of citrus fruits and lemon balm comes along. No trace of the Sherry though.
Taste
Surprisingly mild and smooth for the high strength. A delicate sweetness of citrus honey drops, slightly gluey. Goes over into citrus salt before a noticeably spiciness develops. Freshly ground black pepper. However the peppery spiciness does not last long and cigar ash appears.
Finish
long and dry, again pepper, this time rather green pepper though, and more cigar ash
Overall
Laphroaig. 23 Year Old. 1st Fill Sherry Casks (although only partially). My expectations were high. And Laphroaig 1991 has definitely its strength: a very interesting and for Laphroaig complete unusual nose, a good balance and a staggering smokiness for this age. But my expectations were not met. I am particularly disappointed by the complete lack of Sherry influence.
Score: 84 / 100