Glenfiddich 18 Years Old Small Batch Reserve
Tasty Tastings Episode 10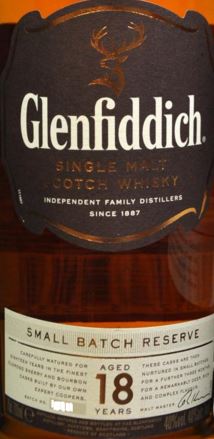 Today I want to compare the Glenfiddich 18 Year Old with the Glenfiddich 18 Years Old Small Batch Reserve. I already reviewed the 18 Year Old earlier today. I do not want to speculate too much here but I think the 18 Year Small Batch Reserve will take off the "old" 18 Year Old in the long term.
But let's get down to the facts now. The Small Batch Reserve is unlike the "normal" 18 Year Old matured in ex-bourbon and ex-sherry casks and afterwards married… One moment please, this sounds quite familiar…  Right! Glenfiddich uses exactly the same process for their "normal" 18 Year Old. So that is not the difference as far as I can judge. Also they are both bottled at 40% ABV.
So what is the difference between the two? Well, that is a good question and to be honest I cannot really answer that one. As far as I understand it 150 casks were used for this batch and that the marriage lasted three months. However I have no idea how many casks a batch of the "normal" 18 Year Old has and how long they are married. But as indicated by its name the Small Batch Reserve is perhaps produced in smaller quantities and is married longer than usual.
Facts
Nose
Baked apples with toffee, strewed with cinnamon and orange zests. A subtle undertone of ripe fruits from the sherry.
Taste
A very smooth and sweet entrance to the palate. The toffee is much stronger now. Joined by dried fruits. Gets spicier now, again some cinnamon. Ends in slightly dry sherry.
Finish
medium long to long with a touch of oak. Leaves a delicate tingling
Overall
Smooth and mellow but much more vibrant and full-bodied and thereby more complex than the "normal" 18 Year Old. Also the low strength is not so much of a handicap here. Marvelous, pleasant and almost dangerously tasty.
 Score: 90 / 100