Laphroaig 10 Years Old Original Cask Strength Batch 7
Peaty Friday Episode 20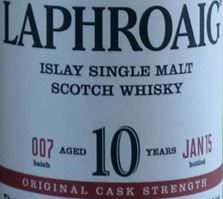 Batch 6 was really good, so let's find out what this year's Laphroaig 10 Years Old Original Cask Strength Batch 7 has to offer.
Facts
| | |
| --- | --- |
| Name: | Laphroaig 10 Years Old Original Cask Strength Batch 7 |
| Bottled: | January 2015 |
| Age: | 10 Years Old |
| Category: | Single Malt Scotch Whisky |
| Distillery: | Laphroaig |
| Strength: | 56.3% Vol. |
| Colored: | No |
| Chill Filtered: | No |
Nose
Sweet with caramel and vanilla accompanied by a very light phenolic touch. Citrus fruits and salted seaweed. Hints of smoked ham in the background.
Taste
Oily and vibrant. Tons and tons of peat followed by two hands full of white pepper. Only very slightly sweet which surprises given the nose. Dried apple rings covered in milk chocolate, followed by more dried fruits. Hints of oak.
Finish
Long, strong and dry. Lots of smoke balanced by floral honey and a whiff of salt. Mouthwatering.
Overall
The nose is, although very pleasant, not really laphroaig-y. Therefore you get all that great laphroaig-ness on the palate and in the finish. Another very fine batch which surprises with an outstanding amount of complexity given its young age. I think I like this batch a notch more than the previous batch.
Score: 90 / 100