Laphroaig Cairdeas 2014
Peaty Friday Episode 21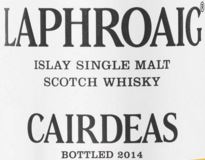 Alright, enough Original Cask Strength's (Batch 6 and Batch 7) for now. Time to get to the Cairdeas', annual limited editions released around the Feis Ile Festival to celebrate friendship ('Cairdeas in Galic).
The Laphroaig Cairdeas 2014 got a double maturation both in bourbon barrels and in Amontillado seasoned hogsheads.
Facts
Nose
Laphroaig's signature medical, iodine and minerals notes embedded in a muddy sweetness. Lots of oranges accompanied by hints of cinnamon, lemon zest, vanilla tobacco and cooling mint. A smouldering barbecue as well as BBQ sauce. A bit sharp (read alcoholic) around the edges.
Taste
Smooth and sweet. Medicine and iodine with a whiff of peaty ashes and tar. Again lots of juicy, sweet oranges followed by apricots, sugared lemon zest and vanilla honey. Gets a bit dryer towards the end.
Finish
Long. Sweet and mild with a a good portion of gentle smoke. Coffee with a lot of sugar. Vanilla pods with a few peppercorns in between.
Overall
Outstanding. What else can I say? The casks are working very, very well together resulting in a wonderful sweet fruitiness which you don't find in other Laphroaigs. Very smooth and balanced with a rewarding complexity.
Score: 92 / 100