Laphroaig Cairdeas 2015 200th Anniversary Edition
Peaty Friday Episode 22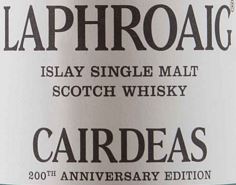 The Laphroaig Cairdeas 2014 was outstanding, but can it be topped by the Laphroaig Cairdeas 2015 200th Anniversary Edition? But first off, let's see what Laphroaig has to say about this year's Cairdeas:
The 2015 bottling is produced from of our finest floor malting's malt, distilled using only the smaller stills and fully matured in our famous No1 warehouse, right by the sea. Cairdeas 2015 is therefore John's [Master Distiller John Campbell] interpretation of how Laphroaig would have been produced at the distillery 200 years ago.
Sounds very promising!
Facts
| | |
| --- | --- |
| Name: | Laphroaig Cairdeas 2015 200th Anniversary Edition |
| Bottled: | 2015 |
| Category: | Single Malt Scotch Whisky |
| Distillery: | Laphroaig |
| Strength: | 51.5% Vol. |
| Colored: | No |
| Chill Filtered: | No |
Nose
Barbecuing at the beach – very salty sea air mixed with campfire smoke. Not much medicine and iodine. Hints of vanilla honey and caramel toffee. All kinds of citrus fruits like lemons, limes and oranges. Mint leaves. Backed apples wrapped in bacon.
Taste
Creamy and full-bodied. Again very salty. Sweet ashes. Hints of rose pepper and herbs. Vanilla, chocolate and citrus fruits. Gets pretty flat after a short while.
Finish
Medium. A bit spicy but overall very mild. Sweet smoke with a citrus touch.
Overall
A very good Laphroaig, although a bit too progressive for my taste. The nose is a real highlight and while the rest is more than just fine, it is just not as good.
Score: 89 / 100