Laphroaig 21 Years Old 200th Anniversary Edition
Peaty Friday Episode 23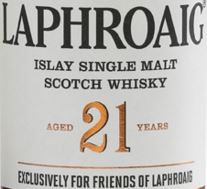 Okay, so far we had the Original Cask Strength Batch 6 and Batch 7 as well as the Cairdeas 2014 and Cairdeas 2015. So I guess it is now time for the two 21 Years Old.
The Laphroaig 21 Years Old 200th Anniversary Edition to the Friends of Laphroaig members by ballot, but now anyone can order it on the Laphroaig website. Why? Well, I guess that this has something to do with the price –  £99 for a half bottle isn't exactly cheap.
Facts
Nose
Very sweet with all the aromas you expect from a first-fill bourbon cask. Sweet medicinal smoke accompanied by vanilla and white honey. Oranges, sugared grapefruits and lemon slices. Hints of mint.
Taste
Sweet and smokey. Dried seaweed seasoned with sea salt. Grilled pineapples pieces in BBQ sauce. Followed by more citrus fruits and ginger.
Finish
Medium, but vanishes way too quickly. Hints of rose pepper and salt. Honeyed ash and citrus fruits.
Overall
A very elegant and mature Laphroaig. I am not the biggest fan of this citrus fruity profile but I have to acknowledge its well-balanced complexity. So overall a very good expression but not as good as I had hopped for.
Score: 89 / 100