Tullibardine Sovereign
Tasty Tastings Episode 15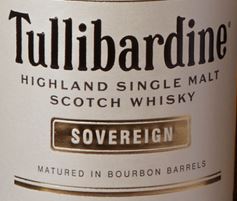 Back in 2013 Tullibardine launched a completely revamped range with a new entry level bottling, named Tullibardine Sovereign. Now to name a NAS entry level expression 'Sovereign' is a pretty bold move, at least in my opinion. Just let me put it this way: When that one is already so excellent, than why on earth should I even consider to purchase one of the higher priced versions?
Facts
Nose
For only 43% ABV mind-boggling alcoholic in the nose. After some time I can spot some light undertones of white fruits – apples, white grapes and plenty of pears. Joined by a subtle sweetness. However the alcohol remains present at all times.
Taste
Strong alcoholic. Then a very gentle sweetish fruity touch that gets buried under a wave of bitter oak immediately.
Finish
Long. Very spicy oak. Leaves a alcoholic aftertaste.
Overall
Very poorly integrated alcohol and overloaded with oak. This single malt is everything but 'sovereign' – 'immature' and 'imbalanced' would be more appropriate terms.
Score: 66 / 100