Laphroaig 15 Years Old (2009)
Peaty Friday Episode 4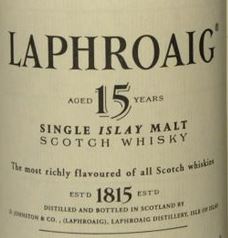 I am a pretty big fan of Laphroaig in general so I am very excited to be able to do a direct comparison between the old and the new Laphroaig 15 Years Old today.
Laphroaig 15 Year Old enjoyed great reputation among fans of Islay Single Malts. One of the most famous fans was probably (at least according to some sources) Prince Charles, who granted his Royal Warrant to Laphroaig in 1994.
In 2009 the 15 Year Old was replaced by a 18 Year Old. Ah, the good old times when a whisky with an age statement was replaced by another whisky with an age statement (in this case by an even older one!) and not by a NAS bottling. Anyways, for its 200th birthday – Happy Birthday by the way – Laphroaig turned back the hands of time in some sense and discontinued the 18 Year Old in favor for a new 15 Year Old bottling.
But now let's go back in time to find out how the old 15 Year Old was. Bottled in 2009, this has to be one of the very last batches before the discontinuation.
Facts
| | |
| --- | --- |
| Name: | Laphroaig 15 Years Old |
| Bottled: | 2009 |
| Age: | 15 Years Old |
| Category: | Single Malt Scotch Whisky |
| Distillery: | Laphroaig |
| Strength: | 43.0% Vol. |
| Colored: | Yes |
| Chill Filtered: | Yes |
Nose
Takes us right in the middle of a hospital corridor. A very strong smell of medicine, iodine and just general hospital smell all-around. Very heavy stuff! More in the background smoldering campfire and earthy undertones like turf. Suddenly, a scene change. Very maritime now. Sea air, sea weed, dried fish and smoked salmon. Opens up a bit now and some lemons and limes come to light.
Taste
Oily. Rich and concentrated. Ash and light smoke. Joined by colored pepper and sea salt. Also hints of licorice.
Finish
Very long. Strong smoke. A bit of tar and burned rubber. Rounded off by a very subtle bitterness.
Overall
Intense, yet incredible pleasant. Rich, full and beautiful old-fashioned all-around. What a cracker!
Score: 89 / 100