Benrinnes 2001 'Rhubarb Royale' (Wemyss Malt)
Tasty Tastings Episode 18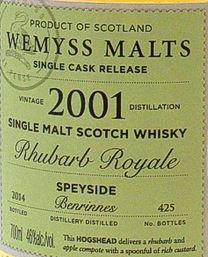 The independent bottler Wemyss Malt released six new single casks bottlings at the end of last month. One of them is 'Rhubarb Royale', a 13 Year Old single malt from Benrinnes. The other five are 'The Rockpool' (Bowmore 1995), 'Foraged Fruit Fool' (Blair Athol 1991), 'Toffee Tuile' (Aberfeldy 1999), 'Kumquat Cluster' (Glenrothes 1993) and 'Stem Ginger Preserve' (Mortlach 1995).
Today is a double premiere for me: This not only my first bottling from Wemyss Malt but also my very fist single malt from Benrinnes.
Facts
Nose
Delivers what it promises: stewed rhubarb. Baked apple and pear compote with vanilla ice.
Taste
Sweet and light. There is some youthfulness to it, but it's bearable. Taffy and nougat. Hot chocolate with rum. Some honey spiced hazelnuts. Hints of those stewed fruits from the nose.
Finish
Medium. Cinnamon sticks, whole cloves and vanilla beans. Rounded off by bitter nougat.
Overall
Very pleasant with a certain lightness and subtle elegance.
Score: 87 / 100