Laphroaig 15 Years Old 200th Anniversary Limited Edition
Peaty Friday Episode 5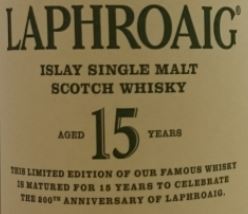 I am a pretty big fan of Laphroaig in general so I am very excited to be able to do a direct comparison between the old and the new Laphroaig 15 Years Old today.
Earlier today I already reviewed the old 15 Year Old but now it is time for the 15 Years Old 200th Anniversary Limited Edition, which replaced the 18 Year Old which in turn replaced the old 15 Year Old back in 2009. What a crazy whisky world we live in.
Facts
| | |
| --- | --- |
| Name: | Laphroaig 15 Years Old 200th Anniversary Limited Edition |
| Bottled: | 2015 |
| Age: | 15 Years Old |
| Category: | Single Malt Scotch Whisky |
| Distillery: | Laphroaig |
| Strength: | 43.0% Vol. |
| Colored: | Yes |
| Chill Filtered: | Yes |
Nose
Not much medicine and iodine. Instead sweet peat smoke, although the focus is clearly more on the sweet than on the peat. Creme caramel and fruit salad. Hints of mint and green leaves.
Taste
Rather thin. Peat smoke and even some medicine, but very sweet one, like kids cough syrup. Fruity but overall pretty watery on the palate… tastes like some trendy vitamin water with 'mixed fruit' flavor. Some very subtle pepper and toffee nougat in the background.
Finish
Long, a bit peppery and peaty but altogether very mild.
Overall
Timid and shy. Do not get me wrong, this is a fine whisky but just too streamlined. It has nothing really in common with the old version. Reminds me more of one of the more recent NAS releases from Laphroaig, although of better quality. Not a game changer for me.
Score: 84 / 100
Sample provided by Thorsten Jung (Spiritscorner.eu)