Four Roses Small Batch
American Monday Episode 5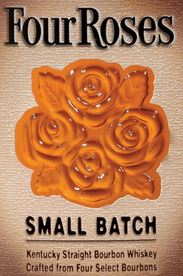 Last week I reviewed the flagship of the distillery, Four Roses Yellow Label, a really well-made "bottom shelf bourbon".
But now it is time for Four Roses Small Batch. Four Roses uses four of their ten bourbon recipes "to create a perfectly balanced Small Batch". It is not known how Four Roses defines "Small Batch" and the term does not have a legal definition (yet) so this is open for speculation I guess. What can be said with certainty is that a "small batch" is a limited selection of barrels that are "batched" together before bottling. This means that the flavor profile could vary a bit over the years.
A last note, before we start: Four Roses also releases from time to time "limited editions" of their Small Batch which are bottled at barrel strength and are non chill filtered, so do not confuse both. Maybe I will get lucky enough to review one of those hardly to get "Limited Edition Small Batch" releases in the future.
Facts
Nose
Evident but not obtrusive vanilla with hints of nutmeg.
Taste
The entry to the palate is creamy, soft and honey-sweet. Ripe and sweet fruits which are quickly replaced by toasted oak.
Finish
Medium. A hint of vanilla hovers over toasted oak.
Conclusion
This small batch bourbon has a good balance between sweetness and spiciness but lacks a bit of character.
Score: 84 / 100