Springbank 17 Years Old Sherry Wood
Peaty Friday Episode 9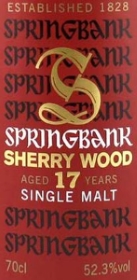 The Springbank 17 Years Old Sherry Wood is one of the more recent releases from Springbank, with the other two being the 10th Batch of their 12 Years Old Cask Strength and a 21 Years Old, matured both in bourbon and in sherry casks. I will review the other two sooner or later as well, but now it is time for the Sherry Wood, my first ever single malt from Springbank.
Facts
Nose
Very light smoke, more delicate than powerful. Sherry soaked apricots. Cherries and wild berries accompanied by floral honey and salted toffee. A whiff of gingerbread cinnamon cupcakes.
Taste
Warming and full-bodied. The alcohol is instantly noticeable but not overpowering. Plenty of oak (including some wood tannins). A bag full of white pepper. Followed by black fruits and very light Sherry. A rather subtle smoke comes to light now. Moves on with espresso, dark chocolate bars and a few drops of honey.
Finish
Long and dry. Fruity licorice combined with slight traces of sherry and smoke.
Overall
Not what I necessarily expected from a pure sherry maturated expression. No doubt, the focus here lies more on the wood than on sherry. Still a pretty pleasant (although a bit atypical) sherried whisky.
Score: 88 / 100
Sample provided by Thorsten Jung (Spiritscorner.eu)