Aberfeldy 1999 'Toffee Tuile' (Wemyss Malts)
Tasty Tastings Episode 28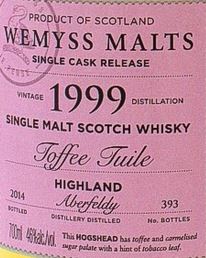 The second Aberfeldy bottled by Wemyss Malts for today, nicknamed 'Toffee Tuile'. Like the Aberfeldy 1999 'Snuffed Candle' from earlier today, this expression is also 15 years old and was matured in a hogshead (with a slightly higher outturn) as well. However the differences are immense, as one could expect from single cask releases.
Facts
Nose
A lot of lovely wood. Toffee is there, maybe not as dominant as expected. Green apples and other white fruits along with cereals, bread and slightly burned vanilla biscuits. A whiff of mint.
Taste
The alcohol burns a bit (especially for 46%), but not in a bad way. Again a large dose of oak. Powerful spiciness. Roasted almonds and hazelnuts (without the sugar). Green apple juice. Burned sugar and spicy caramel.
Finish
Long. Peppery oak and caramel coated cereals.
Overall
Not really earthshaking, but everything comes together nicely. Definitely very enjoyable.
Score: 87 / 100