Eagle Rare 10 Years Old Single Barrel
American Monday Episode 8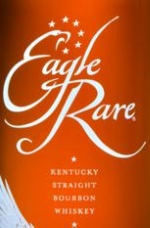 After last week's episode with the flagship bottling from Buffalo Trace, the Buffalo Trace (40%), it is now time for one of their single barrel expression, the Eagle Rare 10 Years Old Single Barrel. There is also a 17 years old version, which is part of Buffalo Trace's 'Antique Collection'.
Facts
Nose
Pretty strong with a good deal of fresh oak. Roasted vanilla beans. Hints of orange liqueur combined with a fruity touch. Coconut and honey. Then the oak comes back again.
Taste
Dry and pretty strong. Honeyed almonds paired with dried berries. A considerable amount of spicy oak before some very delicate saltiness kicks in.
Finish
Long with a lot of oaky dryness. Hints of cacao. A salty tingle on the tongue.
Overall
A truly well-aged and rich bourbon with a distinctive salty touch. Very pleasant and delightful. Bold like an eagle!
Score: 89 / 100